Car crash sparks gas pump fire in Portland | News
PORTLAND, Maine (NEWS CENTER) -- A chain reaction car crash Wednesday afternoon sent a pickup truck into a gas pump, causing it to burst into flames.
The crash happened at the Riverton Gas Station of Forest Ave. Witnesses say a white pickup truck rammed into a larger, dark-colored truck, pushing it into the pump. A third car was rear ended.
"It was probably the most traumatizing thing I've ever seen in my life," Arianna DuPont, who witnessed the crash, said.
It appears the larger truck had been parked. Witnesses said nobody was inside at the time of the crash.
There is a fire station right across the street from the gas station, so firefighters quickly put out the fire.
"They even mentioned hearing it happen, came outside and saw the fire," Deputy Chief Shawn Neat said.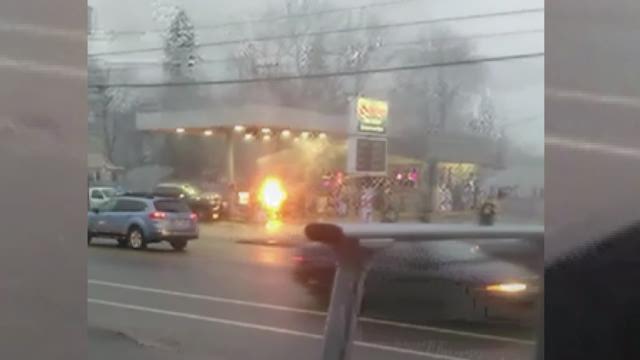 Neat said the three people involved in the crash were taken to the hospital with minor injuries.
Firefighters taped off the gas station for several hours during rush hour traffic. One of the owners, Sokreth Yean, said the station probably lost about 70 percent of its business for the day, right before Christmas.
"It's too bad this happened at this time of the year," he said.
The convenience store was back open shortly after the crash, and Yean said the pump that wasn't hit will reopen on Christmas Eve.
Police are still investigating the cause of the crash, including whether the driver of the white truck had a medical issue.