Portland issues citywide parking ban | News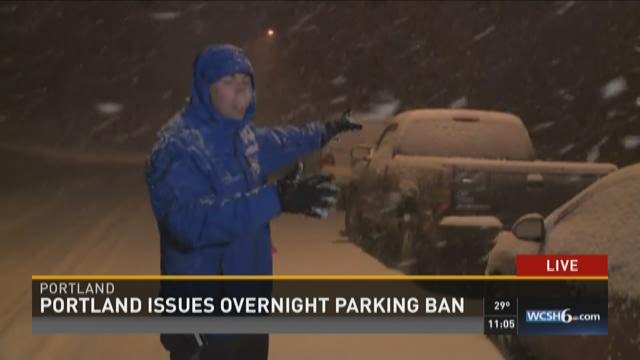 PORTLAND, Maine -- In advance of tonight's snow storm, a citywide parking ban has been declared beginning tonight at 10:00 PM (Tuesday, January 12) through 6:00 AM Wednesday, January 13. Vehicles left on City streets after 10:00 PM can be towed at the owner's expense.
"With a forecast of 3-4 inches coupled with freezing temps the rest of this week and a larger storm coming on Saturday night, we are calling a citywide parking ban tonight to get the streets clear," said City Manager Jon Jennings.
New this winter, the City is unveiling a peninsula parking ban option to join the citywide and yellow bans. This new option will cover the entire peninsula – the area south and east of I-295 to the Portland waterfront, from Tukey's Bridge to the Veteran's Memorial Bridge – and will improve snow removal operations in the East and West Ends. When the City calls for a peninsula ban, it will run from 10:00 PM to 6:00 AM just like the other bans. *Please note: this option is not in effect tonight (January 12).

PARKING BAN INFORMATION

The city offers numerous free options for parking on the peninsula during a snow ban. All vehicle owners must remove their vehicles from these designated areas listed below by 7:00 AM (except for school lots, which are 6:30 AM) the morning the ban is removed. The city may tow, at the owner's expense, any vehicle which has not been removed by the 7:00 AM deadline:
• Deering Oaks - on the Tennis Court Road only
• State St. gravel lot abutting Deering Oaks• Fitzpatrick Stadium parking lot
• Hadlock Field parking lot• All Portland Public School parking lots except the Reiche School lot which abuts the school and playground (*must be out by 6:30 AM*)
• Cutter St. lots (off the Eastern Prom)• Beach St. lot accessible from Commercial St. after 8 p.m.
• City lot at the corner of Park and Commercial streets across the street from the IMT (International Marine Terminal)• Parking lot on Munjoy St. at the former Adams School site
• On Peaks Island, snow ban parking is available at the Welch St. parking lot• Western Prom - Bowdoin to West Street (waterside)
• Eastern Prom - Turner to East End School property light pole 33 (waterside)• Marginal Way - Plowman to just before the entrance area to the east End Waste Water treatment Plant (waterside)
• Most parking garages, including Maine Medical Center will be available during snow bans at reduced rates
Vehicles must be out of these alternate parking lots by 7:00 AM the morning the ban is lifted.
Many parking garages in the area are open for extended hours at reduced rates during a parking ban as well.
Public Works Customer Service: 874-8493Parking Ban Hotline: 879-0300